The galaxy has seen a time of relative peace and great expansion among its spacefaring civilizations. The Foosa have reached far beyond our home world, amassing a sizable empire whose border size rivals that of the ancient Fex'Klanga Guardians. An independent sector had to be created to manage the expanse that is the Foosa Prosperity…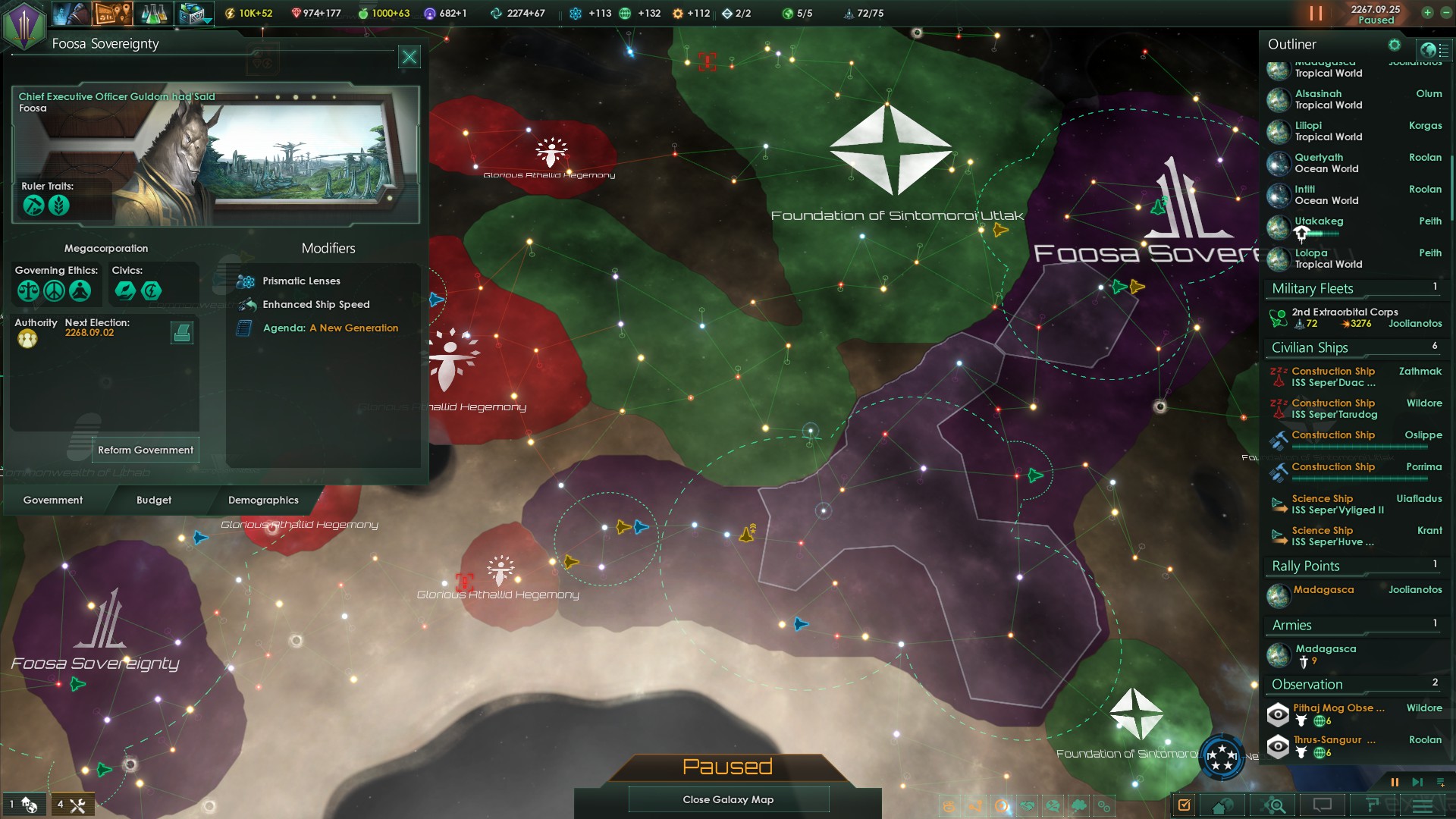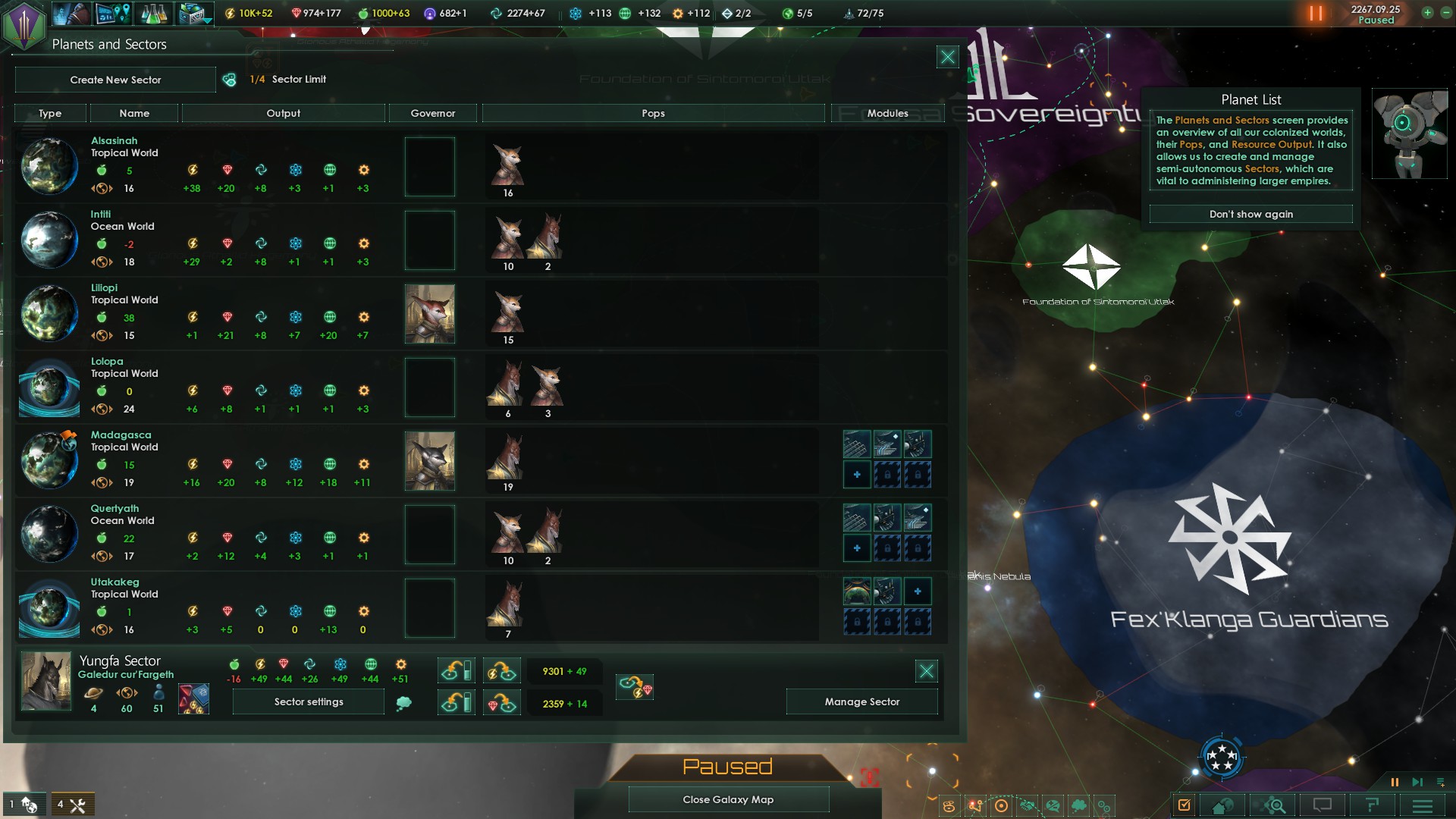 The discrepancy between the two genetically distinct Foosa has had little impact on society since there is little distinction between the two ideologically. A Hoosa (the colloquial name for the horse Foosa) was even elected leader not long after their genetic rejuvenation into the universe. In fact, since the Foosa became split between two species with two different breeding habits, our colonies have been populating twice as fast, which has been an incredible benefit to the Foosan cause…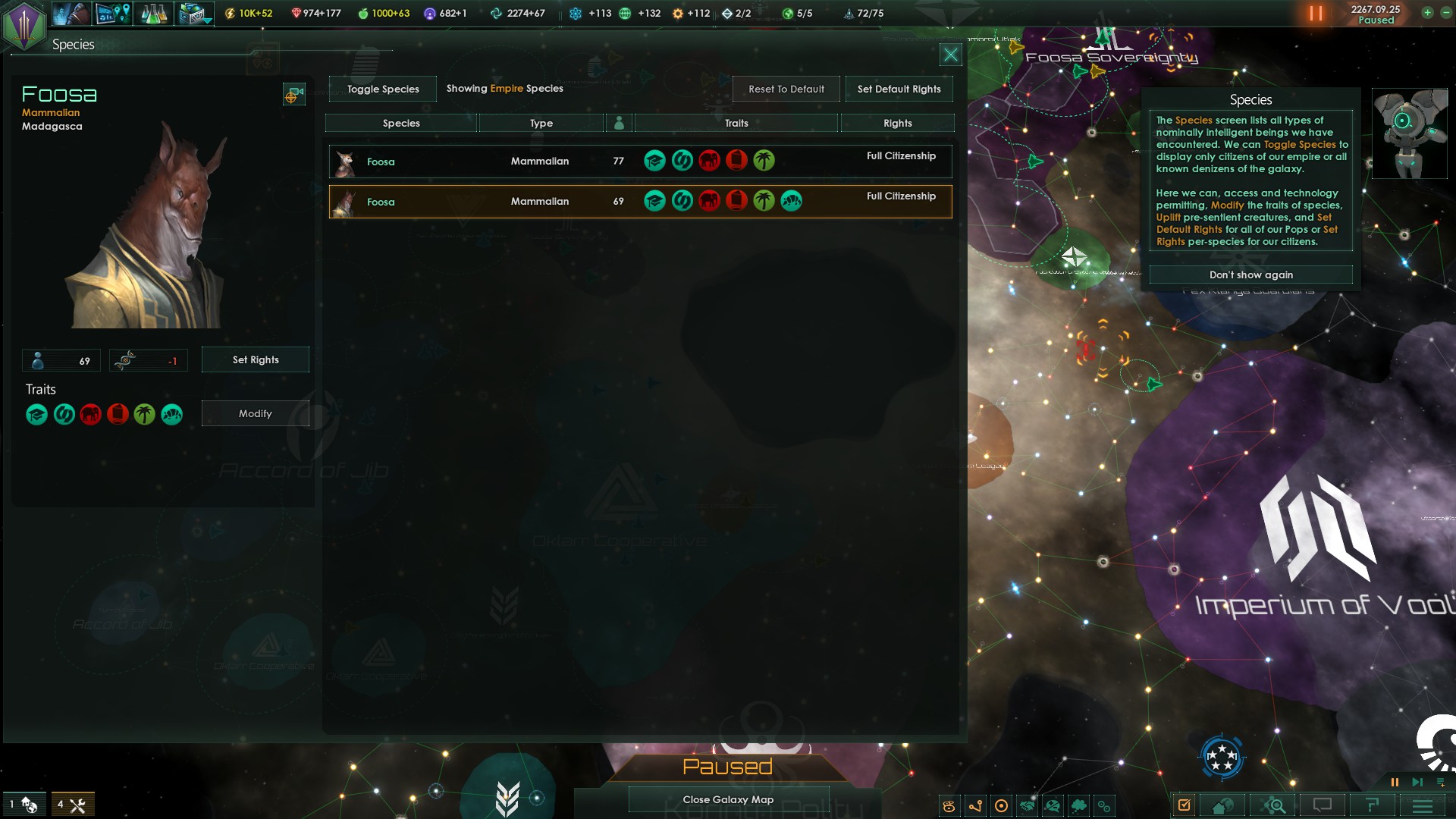 The most recent acquisitions for the Foosa Prosperity were the Peith (a triple-tropical planet system) and Sayhouvis stars and the surrounding systems. The area was so incredibly rich in resources and habitable planets that we sent our colony ships halfway around the galaxy in a detour to get their people there. The cause of the detour likely set changed course of galactic history forever...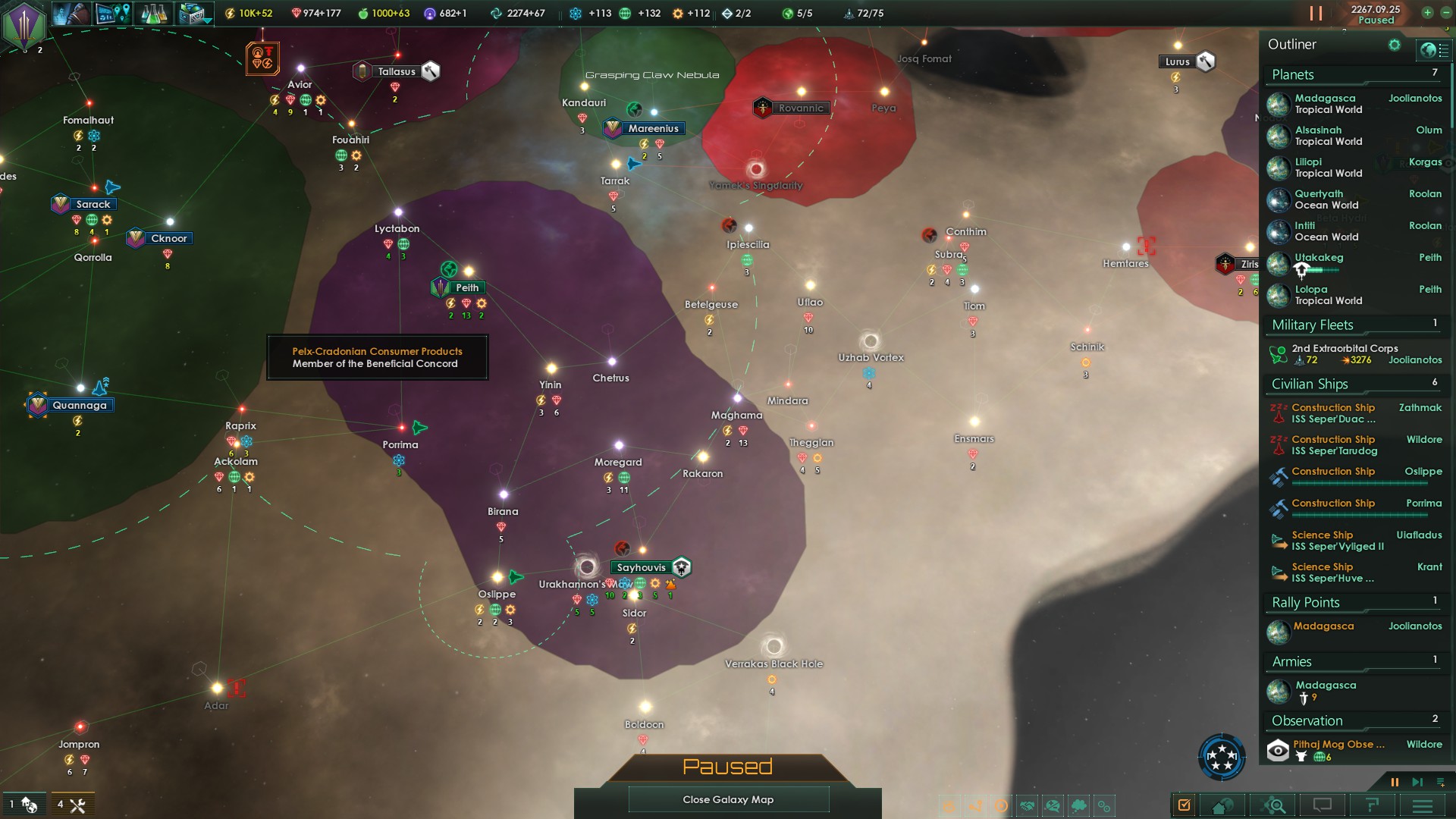 As our science ships explored the unknown, we came across many new species of intelligent and not-so-intelligent life…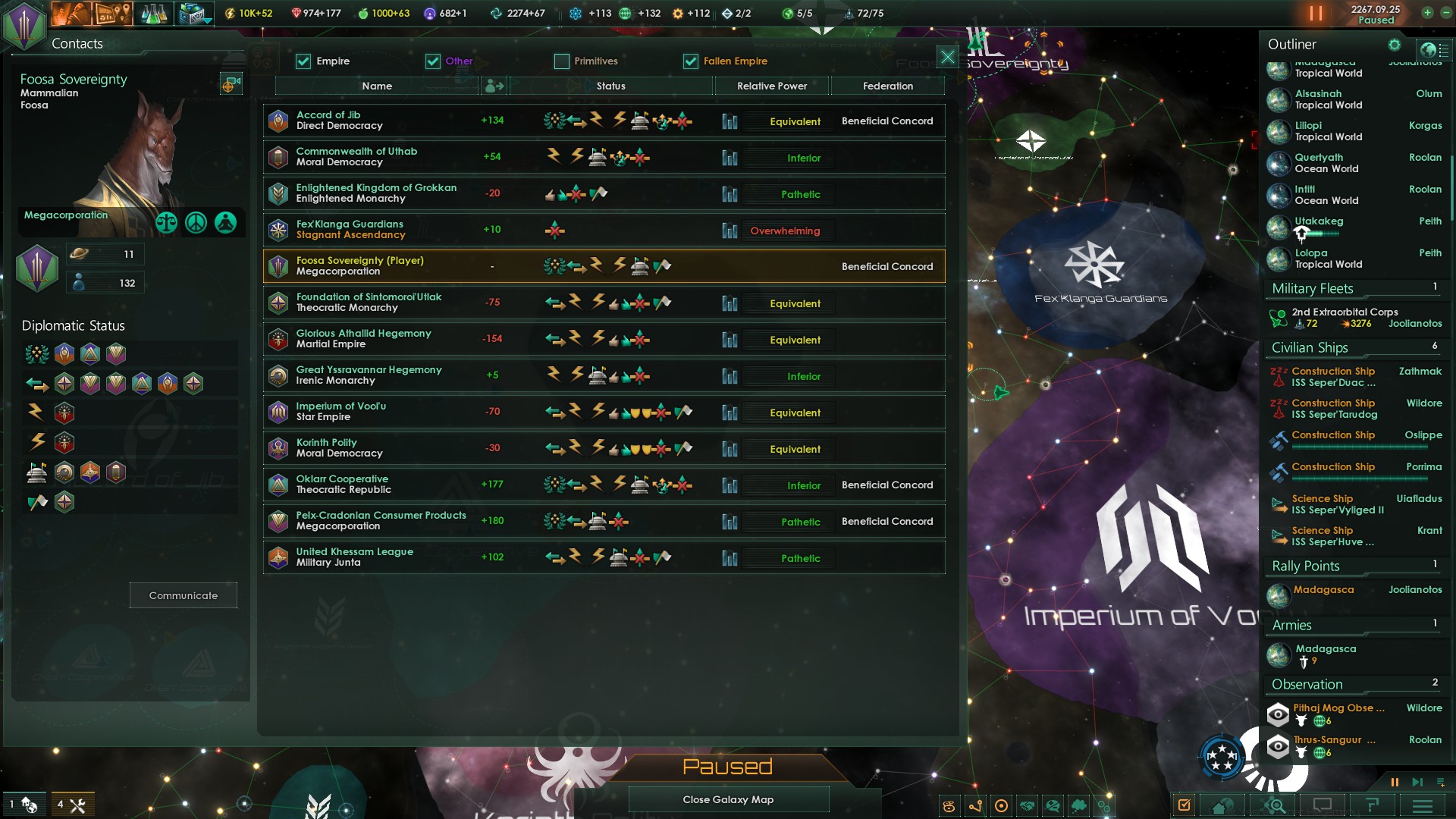 Our slave-loving neighbors in the Foundation of Sintomoroi'Utlak and the dismissive Fex'Klanga Guardians were not our only neighbors. The "Glorious" Athalli Hegemony quickly became our rival, being so caught up in their militaristic brotherhood and lust for honor that they decided the Foosa were squandering their potential and declared the Foosa Prosperity as an illegitimate government. They settled the only star system giving us access to the Peith-Sayhouvis systems and blocked our route there, delaying our plans for years but luckily not preventing our acquisition of said systems.
More empires became known as the Foosa explored, and luckily for us, a healthy number of them were likeminded pacifist egalitarians. The time of peace seemed to draw to a close, however, as the distant United Khessam League and Korinth Polity went to war, ending in a bloody liberation of several planets and annexation of several more. Soon after, the "Glorious" Athallid Hegemony ramped up is diplomatic insults and the Foundation of Sintomoroi'Utlak – once a longtime nonaggression pact member and trade partner – broke our agreements and cut diplomatic ties. The drums of war were echoing in our direction, so the Foosa, being surrounded by enemies, had no choice but to unite with likeminded species and entities…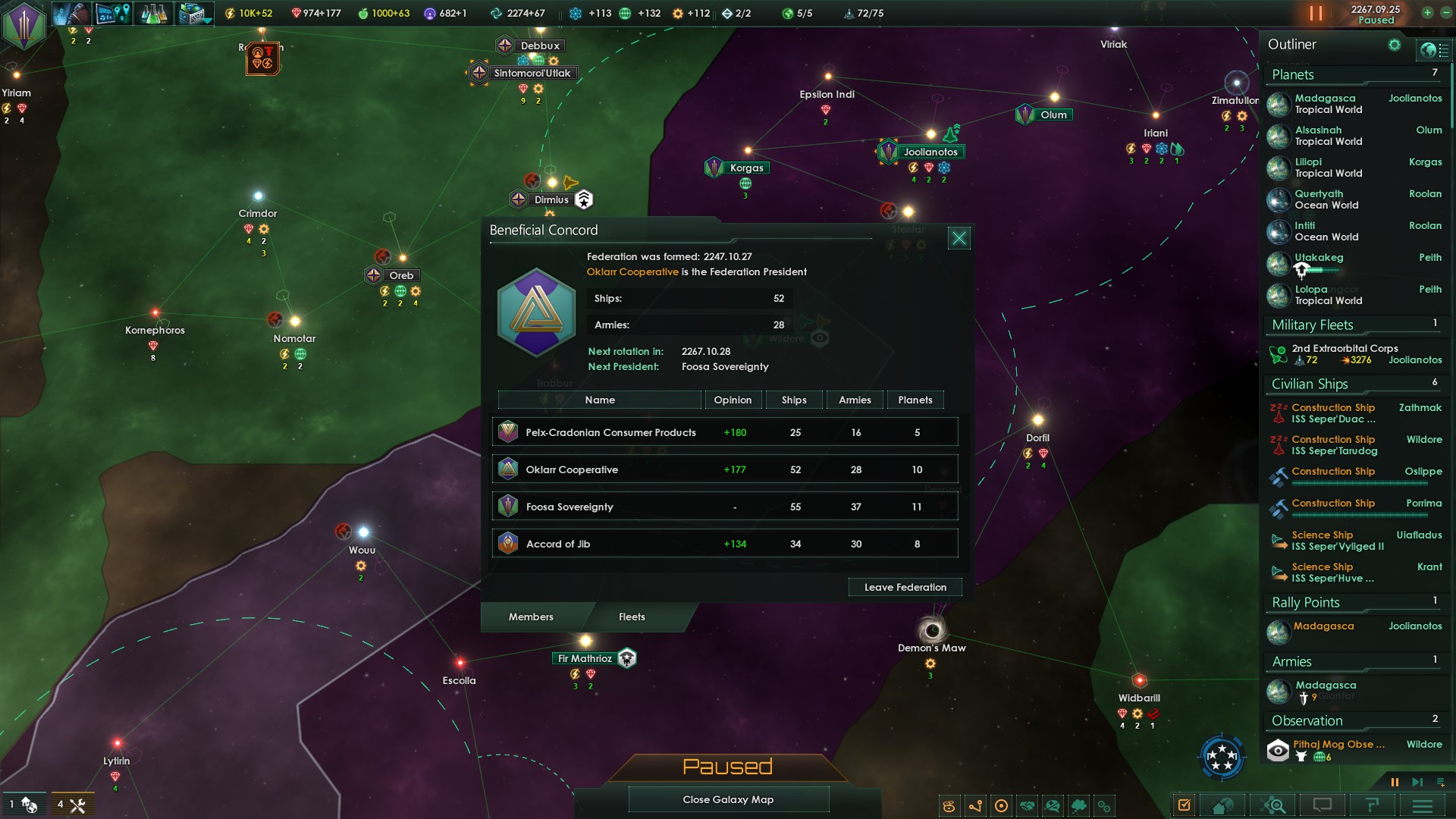 The Beneficial Concord is a federation made up of the following:
-The Foosa Sovereignty, the most superior of the federation by numbers
-The Accord of Jib, a medium-sized direct democracy of federation builders
-The Oklarr Cooperative, a theocratic republic that was always friendly to the Foosa Prosperity and even launched their invitation to the federation
-Pelx-Cradonian Consumer Products, a megacorporation made up of only a tiny handful of systems who the Foosa took pity on and invited to the federation after their own acceptance
The Foosan entry into the federation caused some upheaval internally. A segment of our population was keen on dominating the galaxy through force, and the entry into a pact of any kind was a very negative outcome for them. Barring unforeseen circumstances, the Foosa won't change their goals, but some are definitely unhappy…